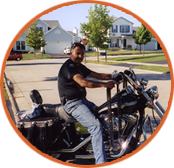 Since 1996, Ramon's Leatherworks has been crafting custom leather motorcycle saddlebags, pouches and accessories. Located in Worth, Illinois, Ramon's is the place to custom order your motorcycle accessories.
Ramon, born in Mexico, has been working with leather since his father began to teach him at the age of 5. Repairing shoes from the time he came to America at the age of 15, Ramon has honed his craft and channeled his love of Harley motorcycles into a thriving, custom leather business.
Although he also sells pre-made items like leather biker chaps, vests, and bags his specialty is custom made saddlebags. Staple motorcycle adornments like fringe, mud flaps, and tool bags round out his menu of hand made leather accessories.